Hi there, so happy you're here!
Pretend we are sitting outside at Starbucks, iced coffee in hand on a warm sunny day, and let me introduce myself…
Who I am:
I'm a life coach, therapist, entrepreneur, and creative soul. All my past professional experiences have led me to this very moment of being your life coach. I'm here to help you find your best self in your best life. 
My Professional Background:
I've worked in higher and public education before starting a mental health private practice.  I scaled that successful practice myself into multiple locations eventually selling it to a corporation in 2019. After years of burnout as an entrepreneur, I decided to design the life I want and that's exactly what I'm doing! 
Today, I don't define myself by what I do.  I define myself for who I am.  I'm a creative person, and like to weave my professional expertise with creative insight. 
My Qualifications:
My Coaching Qualifications:
Board Certified Life Coach
Executive Coaching Endorsement
Education Specialist Degree, With Distinction in Organizational Management
Masters Degree, With Distinction in Psychological Counseling
Bachelors Degree, Magna Cum Laude in Psychology, Business, Dance
Other Qualifications:
State of New Jersey Licensed Professional Counselor
Approved Clinical Supervisor
National Certified Counselor
Employee Assistance Specialist-Clinical
State of New Jersey Certified School Counselor
State of New Jersey Certified Director of School Counseling
What I do best:
I use my extensive background in psychology and coaching to help you to live an authentic and meaningful life. Read more about Life Design here
Simply put, I understand people and that life happens, so I keep it real while helping you fill the gap between where you are and where you want to be. 
Random Things:
I'm a mom of a girl and twin boys (still figuring out this parenting thing). I take care of my elderly grandparents. I have 2 cats named Cheezit and Tigerlily.  I'm a Disney fan with a collection of Minnie ears to prove it! I've traveled to 27 countries and counting. I was a yoga & pilates instructor, personal trainer, and dance teacher in the past. My favorite food is sushi. I'm an avid hiker and kayaker.  I love gardening. I'm a wine enthusiast. If you've seen the show Parks and Recreation-they pretty much modeled Leslie Knope's character after me. 
Bottom line:
I am passionate about helping others while living my best life at the same time. No matter where you came from or how complex your situation, there's always something better waiting for you.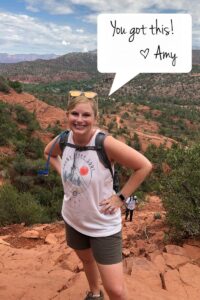 See what I'm up to right now on social above
Easily share me with your friends below