Today is Fun Friday and we're going to have some fun creating our "Happy Place."  Now I know that for some of us, our true space is somewhere distant, perhaps someplace we can't access on the regular.  That's why it's important to also create a place somewhere in or around our home that can bring you solace and joy. 
Over the years, I've had many clients define their Happy Place in ways I would not think.  Starting with a "meditation jungle" consisting of floor pillows, plants, and forest sounds. Another one of my clients explained hers was sprawling out on her living room rug and staring at the ceiling. While I had one mom client who said her Happy Place was after dropping her kids off at school, getting Starbucks and sitting in her car listening to podcasts for 20 minutes.  
There are no limits to what your Happy Place can be!
Definition of: 
My definition is a place where you can be "in the moment" and feel a sense of inner peace, happiness, and solitude.  
Here's my "distant" space: 
An example of my distant Happy Place is Sedona Arizona. I love hiking and being outdoors and this place has great energy for my Happy Place definition.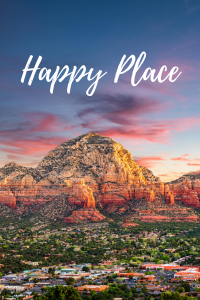 Here's my "at home" space:
This is my zen space in my studio attic. I love it because it's secluded, has all I need to relax and unwind, and includes my favorite color, pink!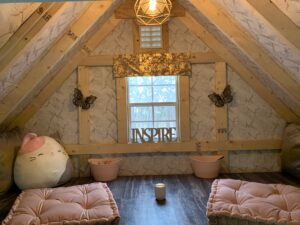 Elements of:
This is up to you.  In my "at home" space I have my favorite smell, my favorite color, inspirational notebooks, some crystals and I bring my phone with me to play a guided meditation or music when I feel like it. I also have a view of the woods, which brings in the outside even in the winter.  I feel most inspired around elements of metal, wood, rocks, and soft textured fabrics, so that's what I have in my space. 
If you'd like to see more of my Studio, click here.
Tips for Creating space at Home:
Find a location in your home you can go to when you need that moment to just be and relax. 

Leave or bring elements to the space that bring you peace, joy, and/happiness

Think about the sounds you want to incorporate in your space

Let others know you are "entering your Happy Place" if it's in a location others will be (noise-canceling headphones may be a good idea)
Before you create your own space, answer the questions below…
What elements do you want in your space?
What elements do you want to remove from the space (that creepy doll your grandmother got you that just keeps staring at you)
What sounds do you want in your space?
What smells do you want to smell? 
Is there something you want to bring to space while you are in it as an activity, book, or musical instrument?
How much time can you gift yourself to enjoy the space daily, weekly, or monthly?
 Feel free to share pics of your space if you already have one on social or share with someone who needs this by clicking the social icons below