A date night doesn't feel possible with how hectic life is for not just me, but many parents and those without kids as well.
I think if you are in a romantic relationship, it's important to have some time connect, even if it's only once in a while…we do what we can.  In my future life design, we could have a date once a week with meaningful and deep conversations every night.  It's not the reality right now with babies who aren't sleeping through the night yet, however right now is not forever. 
Current Reality
We aren't "going out" these days and so having a romantic relationship can seem like finding a squirrel in the wind.
What the heck is that? I don't know…but now I'm laughing hysterically. Oooh look, I found a gif…
Anyways, in my case I have babies, a special needs 5yr old and a business amongst other really cool projects I'm running.  At home, my husband and I barely see each other.  We realize this is temporary due to circumstances outside our control, so we support each other in the ways that we can.
In a partnership, it's important to allow each other space for outlets, otherwise, resentment can build.
An opportunity struck for us to go on a date and thanks to my mom and step-dad it could happen! 
Going out takes a lot of planning between finding childcare, coordinating work schedules, kids' schedules, and getting a reservation somewhere.  Sometimes I feel like planning a date is like what I imagine planning out airport logistics is like! 
So if you're a busy parent like me, I feel you.
Let's get into this date…
Support Local
I admit, going out to eat brought about some nervous feelings.  Like, would we be sitting right next to other people? Having small children at home puts me in mama bear mode…I need to protect myself first.
So in choosing a location, I called ahead to make sure we could sit in a room that only had a few tables.
We know it's a hard time for businesses, so we like to support local and chose a restaurant called Scarborough Fair
Here we are outside the restaurant, masked up and ready for some good food…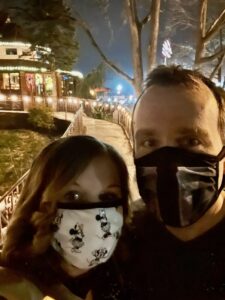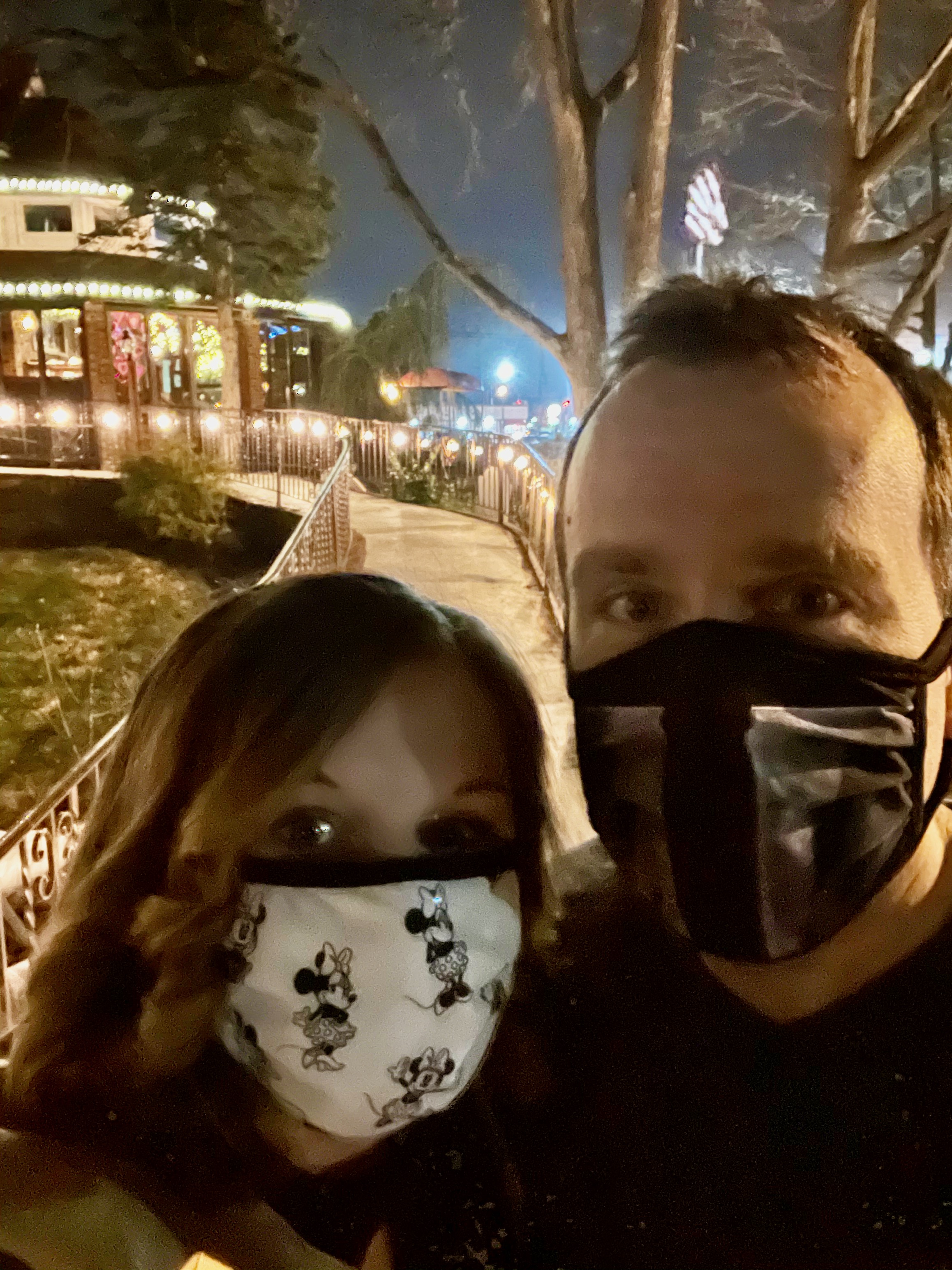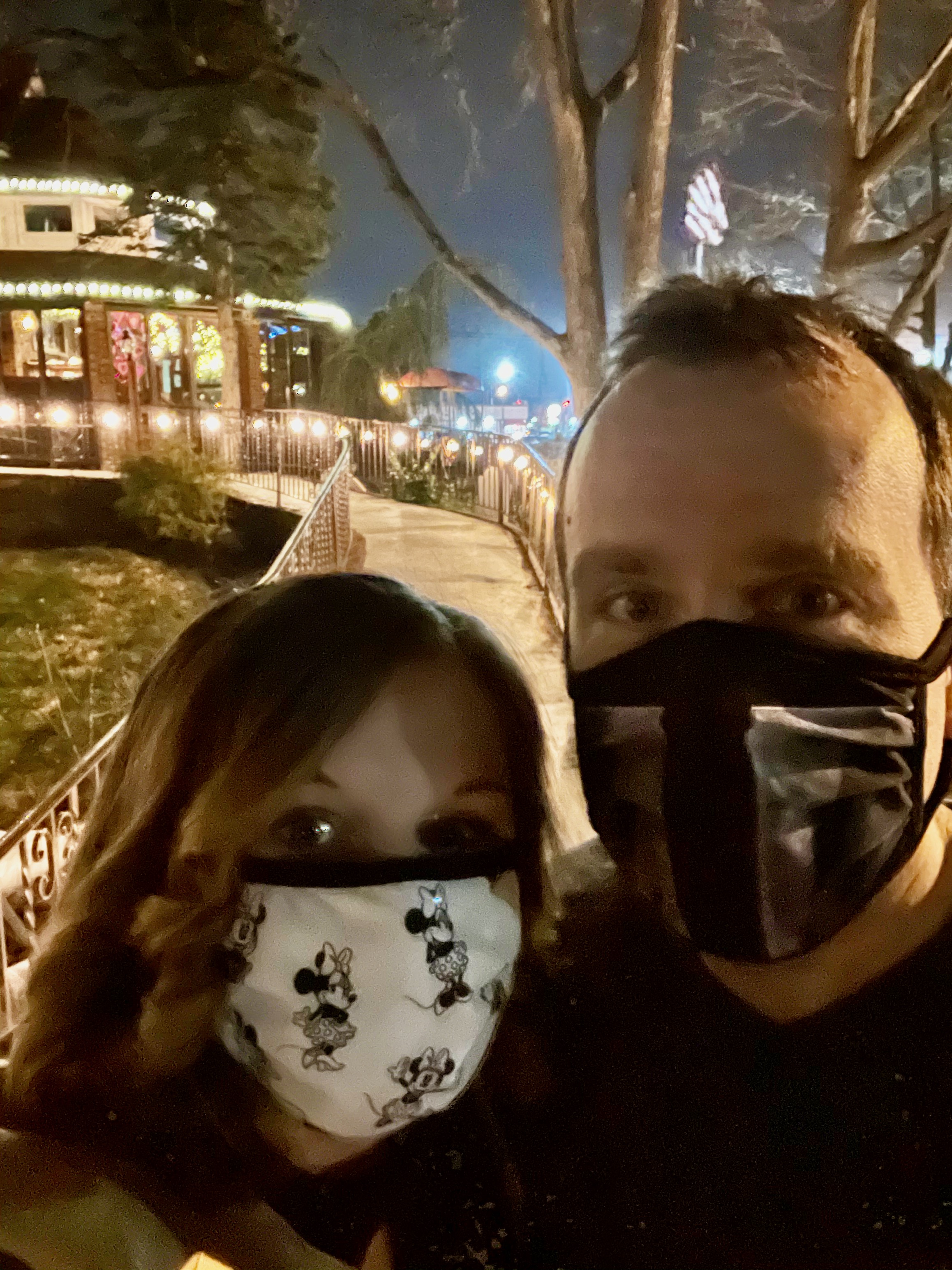 The Atmosphere
This restaurant is so cute!  The inside was decorated for Valentine's Day with glittery hearts, and twinkling fairy lights.  Overall it's pretty and eclectic.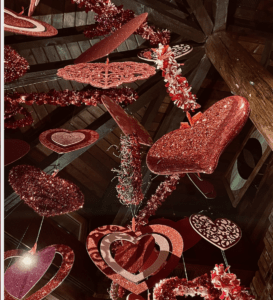 The room we were in felt like we were sitting in a castle and we were the only ones in it until we left, which was nice.
Here's a pic of our table…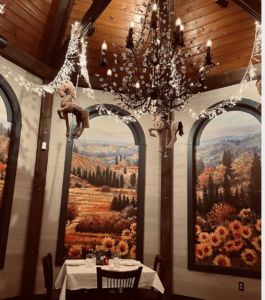 The Food
The food was great!  I was starving and looking forward to their gluten-free options.  My husband is vegetarian and there were a bunch of options for him as well.
We started with gluten-free calamari…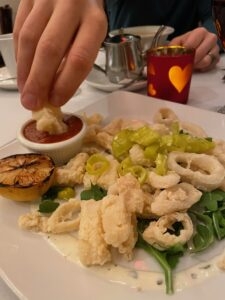 Then I had the short rib for dinner, but I was so hungry I forgot to take a picture…it was delicious.
For dessert, we had the Tartufo…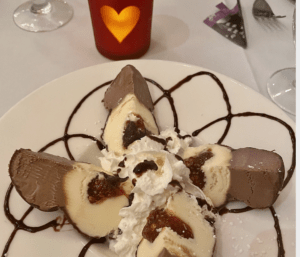 Our Conversation
Like many parents I know, our conversation was mostly about our children.  It's hard as a parent to separate your conversation to adult things when the majority of your time is keeping tiny humans alive and happy.  
The big topic was having more children. Do I want more children?  That's a big question.  I just spent nearly a decade of my life trying to get pregnant…and now I'm old.  My last pregnancy actually had the diagnosis of "Geriatric Pregnancy" and "Advanced Maternal Age" all over it.  Since I am still breastfeeding, my hormones haven't taken their full dive yet either.  
What women go through to bring children into this world and for the year after is overlooked.  Our bodies and minds go through some kind of hell where the expectation is that we need to get over our birth traumas, hormonal fluctuations and just deal with it.   There's no place to heal, no time to reflect, and the body of a woman is still not understood from sex to fertility.  I'll save that for another post.
Although my husband would like more, I can say I am definitely done. 
Reasons
Here are my reasons…
1. My 1 life is already full 
2. I have 2 hands and 3 children 
3. My business technically counts as a 4th child and I love what I do!
4. My body is literally exhausted from all the fertility drugs, hormones, being pregnant 7x, all the trauma of loss and birth, etc.
I literally do not remember what it feels like to feel normal after being on fertility drugs for so long. After I'm finished breastfeeding,  I'm ready to take care of my body and put my health first.  I realize some people just seem to get pregnant and pop out children on the side of the road in 10 minutes, but that was not my journey.  My journey was hard, really, really hard.  I am excited to get into a better body and expand my creative mind. 
Connection
Connecting with someone is important during these weird-ass times.  Dates don't have to be reserved for significant others.  I have friend zoom/phone dates when I can too.  Dates are about enjoying conversations, hopes and dreams and feeling connected to something bigger. 
Who can you connect with and talk about your hopes and dreams? Family, friends, online groups? 
Open those doors to find that support, someone is waiting to talk to you somewhere.
Have a great weekend!
Amy xo