In Part 1, our last series post, we talked about planning and getting organized for remote learning.
Also check out remote learning schedules that keep you sane. 
In this post, we are going to talk about a failproof set up our "remote school."
I'm sure you've seen posts and videos online of parents miraculously turning rooms in their homes into full-out classrooms.  They have desks, they have the alphabet across their ceilings, inspirational posters sparkle across the room…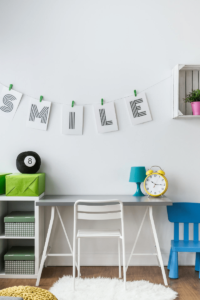 Here's what I say to that:
In reality, I am happy for these people.  They have the time and energy to set up a truly awesome space for their kids to do remote work.  However, those of us trying to get through the summer, work from home, and without extra rooms to convert into classrooms, shit is gettin' real and we need to get things moving.
If you've ordered your organizational and planning supplies from the last post, great! Hopefully, they come before the first day of school.  Now it's time for a failproof set up so we can work, our kids can work, and we can all keep keepin' on in our COVID-19 world.
These recommendations are designed for both the partial and full remote options most of us will be working with come September.
Your Adult Office Space Set up:
I recommend your office space have the following attributes if you are the designated parent monitoring remote schooling:
"Office Space" is separate from the remote learning space, however close enough so you can monitor your child. No matter what age your school-age child is, they may need your help at some point and you want to make sure you are in earshot so they are on task.  This may mean jumping in for the younger ones or making sure your older ones aren't on Tick Tok at the same time.
Boundaries: This is so important, especially if have meetings and phone conferences. This boundary MUST be explained to your child. You could create an actual physical boundary by putting masking tape on the floor where your "office" starts or if you have a home office, go ahead and put a sign or scrunchie on the door that your children know means "do not disturb." If your child can read and tell time, you could also hang a daily hourly schedule so they know when you can be available to them and when they are on their own to figure things out or wait.
Ritual for opening and closing your workday. Especially if you do not have a home office you can literally close the door and walk away from, you will want to have a ritual to open and close your day. This could look like lighting a candle before you turn on your laptop or maybe writing your schedule down for your kids before you take a deep breath and dive into your schedule. At the end of the day, maybe you blow that candle out, or shut down the laptop and say an affirming mantra to yourself like "I am flexible and capable." If your space is on the dining table or another space that is multi-purpose these days, the rituals could be simply setting up your space and closing it down.
Here are some product recommendations that can help if you don't have the time to be creative in your home:
*Any links on this page should be assumed part of affiliate programming
Room Divider: 
Airpods:

Laptop stand:
 (This stand helps your angle your laptop camera better to avoid "extra chins"-you know what I mean!)
Do Not Disturb Sign:
 (This one's funny for your older kids and teens)
Dry Erase Weekly Schedule (for your important calls and meetings):
Kids Learning Station Set up:
The kids' space needs to create an atmosphere where they are motivated, not distracted, and can focus. Now, here are recommendations for the kids:
Minimize distraction: It's easy to get distracted with remote learning no matter what age. Create a space that's not looking out a window.  If you have multiple kids in the same space, try to divide them and give them headphones to minimize sounds.  There's one thing kids seem to want all the time and that's snacks!  If you are sitting and helping your little one and still need to work on your laptop, sit across from them or diagonal so they cannot see your screen.
Learning station supplies at the ready: Have supplies ready daily, I recommend putting out the night before if possible so they aren't bugging you and can focus knowing they have everything they need for the day in front of them. Creating a "learning station" similar to your work station will remind your children that this is "school" and not home, so each time they sit down they understand it's time to learn. We want them to know and understand where their supplies are, how to use them, and where to return them when they are finished.  Don't forget snacks!  Especially with little ones, parents know there's the inevitable "I'm hungry" like 20x when remote school starts.  Have a designated area for snacks for all children.  I recommend taking a step further and labeling snacks in a bento box so you can pack multiple things to last throughout the day.  It doesn't hurt to keep an extra bin of non-perishable snacks as well, so if they eat their whole bento box by 11 and are still hungry, they know they can help themselves to the "extra bin" and not bother you on your important call with your boss.
Inspiration: One thing I do love about the fancy Instagram worthy classrooms parents have created is the inspirational messages and signs.
I honestly haven't heard any school districts implementing any remote mental health or character education programs yet.  This is sad.  Our kids, especially our extroverted ones like my own, need a program that explains in an age-appropriate way what is going on in the world and how to cope.  I truly believe that a random video on Youtube is not enough here.  We need something that speaks to our kids within our small communities from a familiar face they know like a School Counselor or a local therapist. I digress…maybe I'll save that for another post. 
In the meantime, as a parent, something that would be nice, is a visual message your children can see every day.  Maybe it's a message in a picture frame you write or print weekly or daily.  If you have multiple children, you can rotate messages between them.  If you have younger children make sure you read them the message and talk about what it means.
After School Stations: These are for the younger kids as we know with teens they will head to video games or where wifi calls.  Basically the idea is after school, your kids know they can go to another "learning station," but you can call them something more exciting so they don't think it's more school.  My Learning Station is my dining room table. I have a Reading Nook I created using a beanbag you stuff with stuffed animals (amazing!) and a book rack (Links below).  This space is shoved in the corner of a TV stand next to the dining room.  It works! Here it is: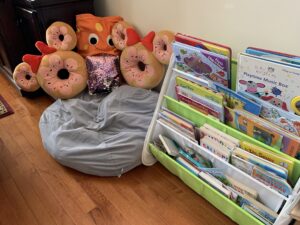 After the reading nook, I also set up 2 additional stations, an Art Station and a Project Station.  The Art Station on one side I use for teaching with posters. This is in my dining room. It easily converts to a chalkboard or for painting, etc. on the other side (Link below):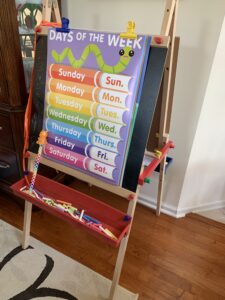 The Project Station is on the opposite side of the dining table to minimize distraction from the Learning Station.  Use what you got, right? I set this up in the morning with an activity that is science-based or creatively driven.  Most of the time (besides the Playdoh) I've had to assist with these projects, however, if you have older children they can probably follow instructions to do on their own (unless you want to join in the fun on your lunch break of course).  
Examples of ideas I have done using Pinterest:
Playdoh creations

Make your own slime

Toilet paper crafts

Printed activities

Make your own calm jar

Make your own bouncy balls
If you don't have time to set up projects, I highly recommend using Kiwi Crate.  It's a monthly subscription box service for creative projects for kids ages 3-16.  The projects are kid-tested and approved.  You can schedule each box for the various ages in your home and I am pretty impressed by the quality of the projects.  It's also nice not to run around looking for supplies right now.  They come with everything you need, shipped right to your door. You'll be just as excited as the kiddos when your box arrives.  Can be a nice incentive at the end of each month to keep their focus. Check it out and get 30% off on me
!
Here are some product recommendations to help you set up the perfect ad-hoc Learning Station for your kiddos:
Table Divider: (for 1 or multiple kids, nice and thick too)

Bluetooth Headphones: (Great if multiple kids are at the same table & great for car rides, you can thank me later)
Pocket Dry-erase Schedule: (Great visual for younger kids not using a planner)
Supply Containers: (Use for extra snacks and supplies to plan ahead)
Bento box for snacks:
Pointers:

Plastic sleeves for Inspiration Cards: (These double as dry-erase boards for worksheets)
 
Stuffed Animal Beanbag for Reading Nook: (Put all those stuffed animals to work, I love this thing!)

2 Sided Easel:
Bookcase Sling:

Although I mostly order from Amazon, you can also find affordable teacher supplies at the Dollar Tree. I've recently bought workbooks, bins, flashcards, charts, books, and other school supplies for under $30!  
Here's what I just bought at the Dollar Tree for Elementary age: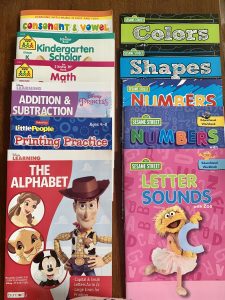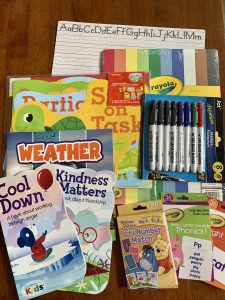 My husband and I agree, for us this past spring remote learning has been "get on the remote school bus, and try not to die!" (and he wasn't the one doing the teaching
). I've learned a lot this past spring about how to make things work as a working parent suddenly turned teacher.  I'm sure I'm not the same quality special-ed teacher for my daughter that she has at school, but that's ok because hey, I'm not one anyways!
What matters is that you feel good about setting your kids up for success and yourself so you can do your job whether you are working remotely or just trying to keep your house in order with everyone home.
I hope these tips and suggestions for a failproof set up help you feel ready to conquer the school year remotely. 
You got this!