I first was introduced to wearing sexy COVID masks at a doctor's appointment right before quarantine went into full effect.  It was an unusual experience as my temperature is typically not taken at the door and I'm not usually given a mask.  I was thinking, "Dude, this is serious!" Upon leaving the office, I decided to keep my mask just in case I would need it again and of course I did.
I worry about leaving the house without my phone, now it's a mask, and hand sanitizer, and a can of Lysol…just in case I need to disinfect the zombies because that's what it feels like going out these days.  It's like we are living in a zombie apocalypse these days. Brains! Brains! Lysol! Brains!
Since that doctor's appointment, masks have been on the shortage and also are being manufactured by companies with licensed characters to people at home making them out of pillowcases to coffee filters.  I'm impressed by all the mask making and creativity surrounding it. If masks are here to stay awhile, we mind as well have fun, right? 
Luckily for me, my mom sews for a hobby, so she's on it! She is mailing masks to friends and family that are way more stylish than the one I received from the doctor's office.  Major props to all the creative people out there that are working hard to manufacture masks for others, our hometown heroes, healthcare workers, etc.! Our essential workers are working hard and I'm sure they appreciate the masks that are being sent to them. 
Here are my daughter and I sporting our homemade Disney Marie masks (we love Marie and all her sass in Disney's Aristocats movie). It's a typical day which means no makeup and messy buns over here!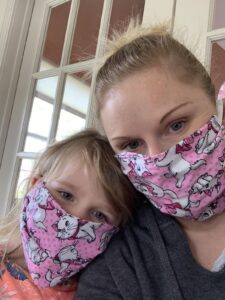 Join me on social and share your sexy COVID mask photos!