It's Halloween tomorrow, so let's get in the spirit!  Show off your cool costumes on social with us!  Pets, children, couples, there's no limit!
I love Halloween!  The smell of apple cider doughnuts.  The leathery feel of the outside of the pumpkin as you carve it.  The sound of your heart pounding as you travel through a haunted house.  There's so much to experience around this holiday and it never gets old.
In our house, we decorate for Halloween in September.  Traditions are important to us, like pumpkin picking, carving, and fall festivals.  This year, with the twins we weren't able to partake in all of our traditions, however, the kids have their costumes ready and we are excited to get out in our neighborhood to Trick or Treat and order pizza (another tradition).
Here's a pic of the twins getting in the spirit of the fall season. My little skeletons…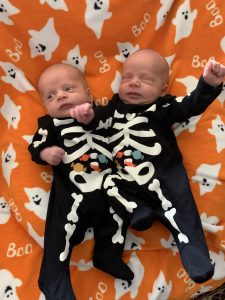 Happy Halloween!