Back when I was planning for Baby #2 (before I knew Baby #2 would also be bringing a friend, Baby #3) I had some ideas about what I wanted for a nursery.  Then, when the project then became "twin nurseries" this changed my outlook and I suddenly had to do some research.
Planning:
When you are having 1 baby, planning a nursery isn't as complicated.  For my daughter's room, before she was born, I had time, energy, and hand-painted 1 of her walls into a fairytale forest.  This time, there would be none of that as energy, time and the idea of painting a whole wall sounded exhausting to this twin mama.
There was also the option of having the boys share a room, so I did a lot of research around that being that I did have 2 rooms to work with upstairs, 1 currently being a guest room and the other room a holding facility for baby stuff and my daughter's clothes.
Ultimately, I decided that each boy would have his own room.  This is because I don't know if one may be a good sleeper and the other not. I didn't need them waking each other up. Also, eventually, it is important to me for each of them to have their own room and space to express their individuality later on.  Just because they are born together doesn't mean they need to be "stuck" together later on.  
Now some people start twins in the same room, same crib and then create another room.  I know my time will be limited with going back to work, so for me, knowing I have 2 rooms ready to rock gave me peace of mind.
When they are born, I do expect them to stay in my room in bassinets until probably around 4 months or so for easy feeding access…then we'll make the transition down the hall to these lovely twin nurseries…
Baby A's Nursery:
I wanted to involve my daughter in choosing each of the themes, so this theme ended up being "Jungle Cruise" for one of my daughter's favorite rides at Disney World and "Adventure."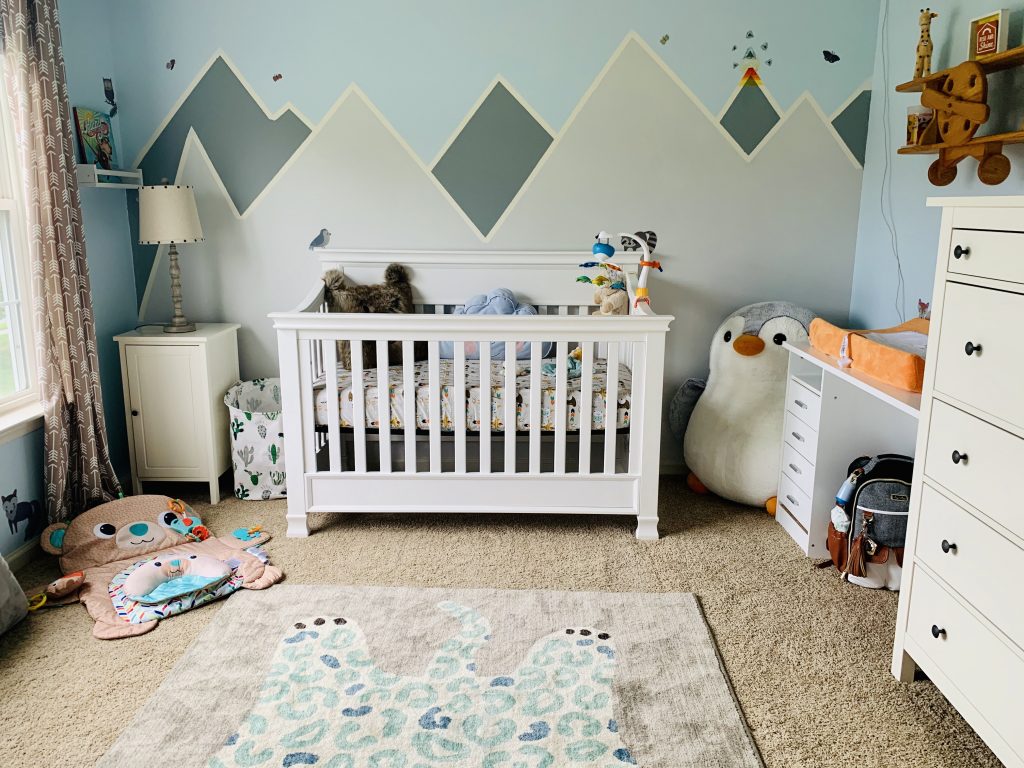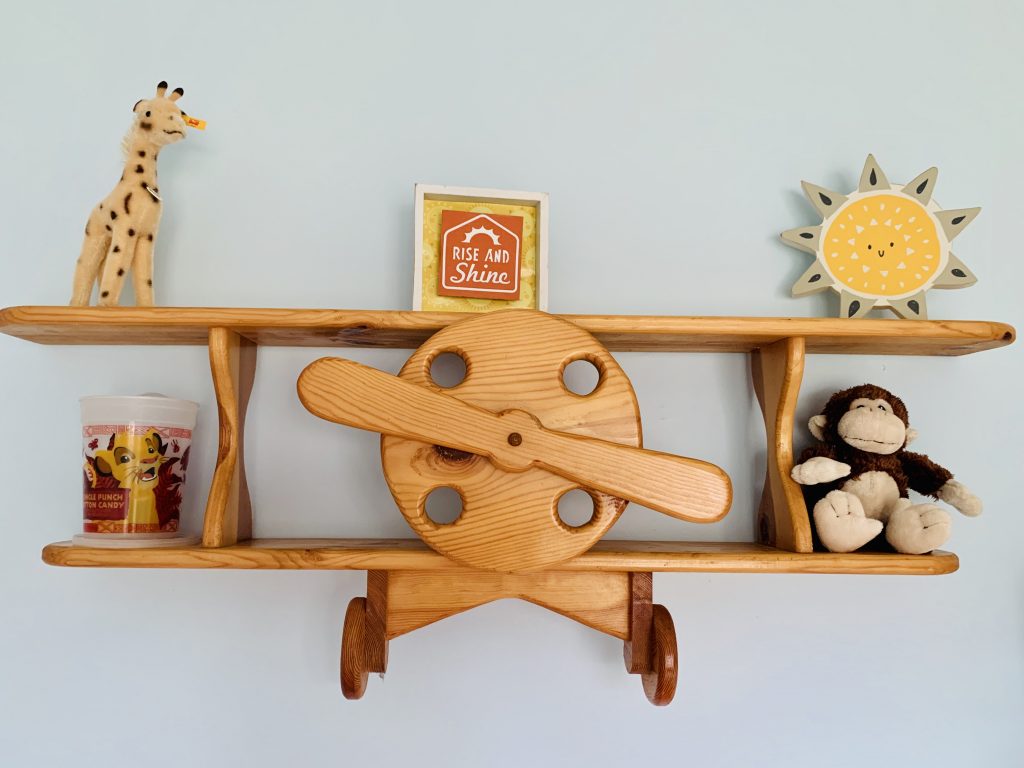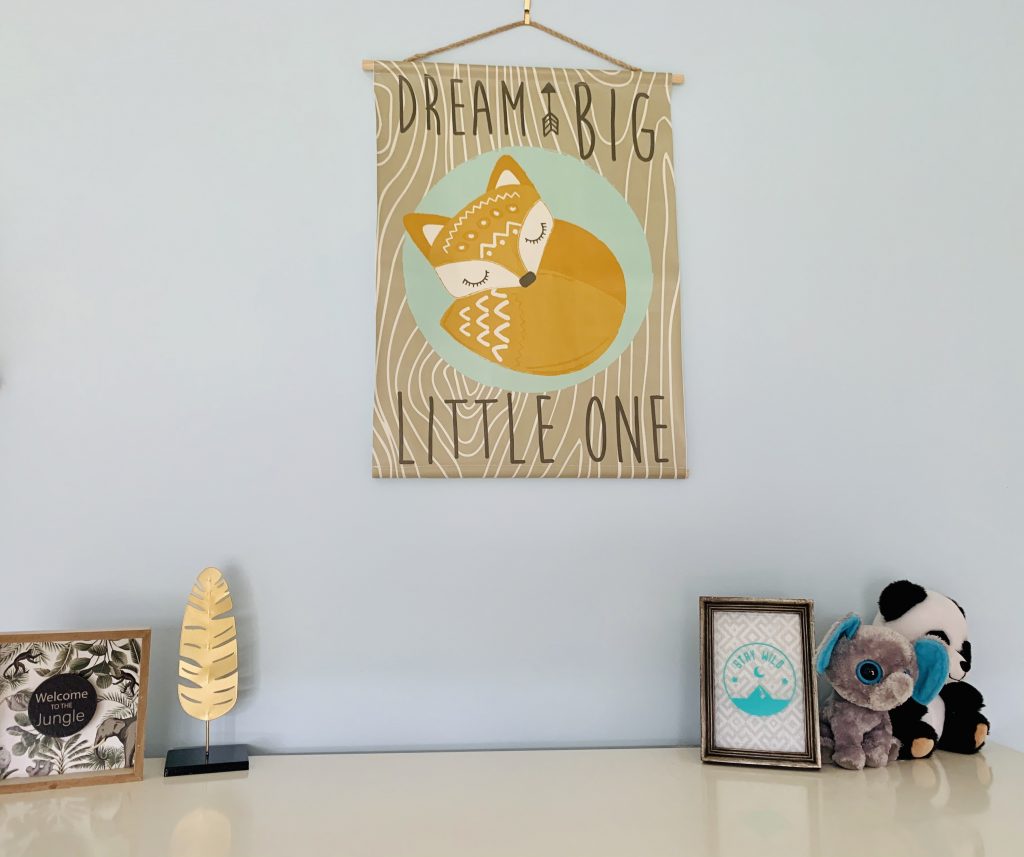 The biggest splurge in this room was the carpet.  I saw it and knew it would be perfect! The dresser we already had and the crib we bought second-hand.  Almost all of the artwork was either free, made, or from somewhere else in the house.  
Baby B's Nursery:
My husband got the pick on this one, which was an obvious choice to be "Star Wars."  My daughter requested that this room includes "Baby Yoda" so that was easy to incorporate.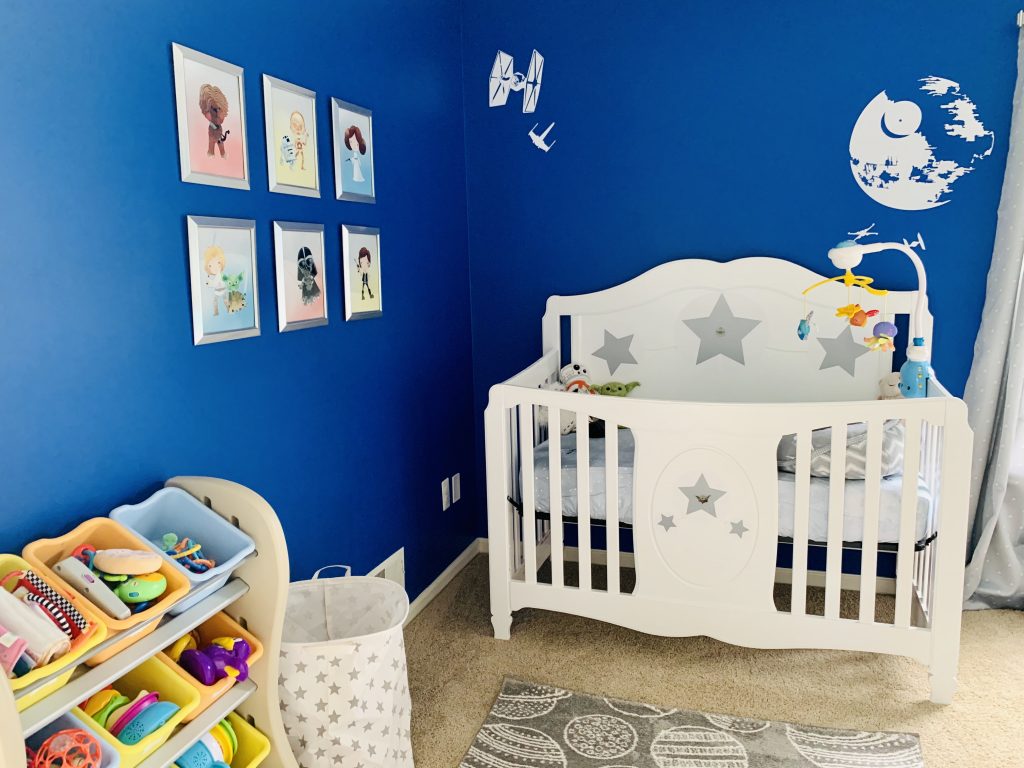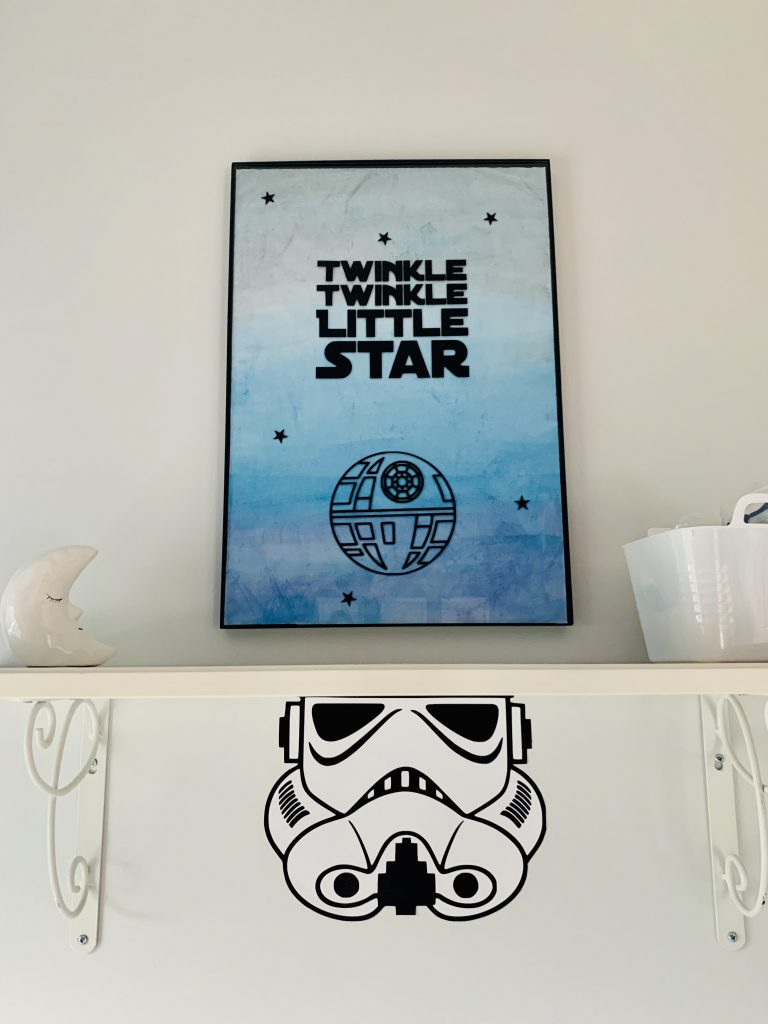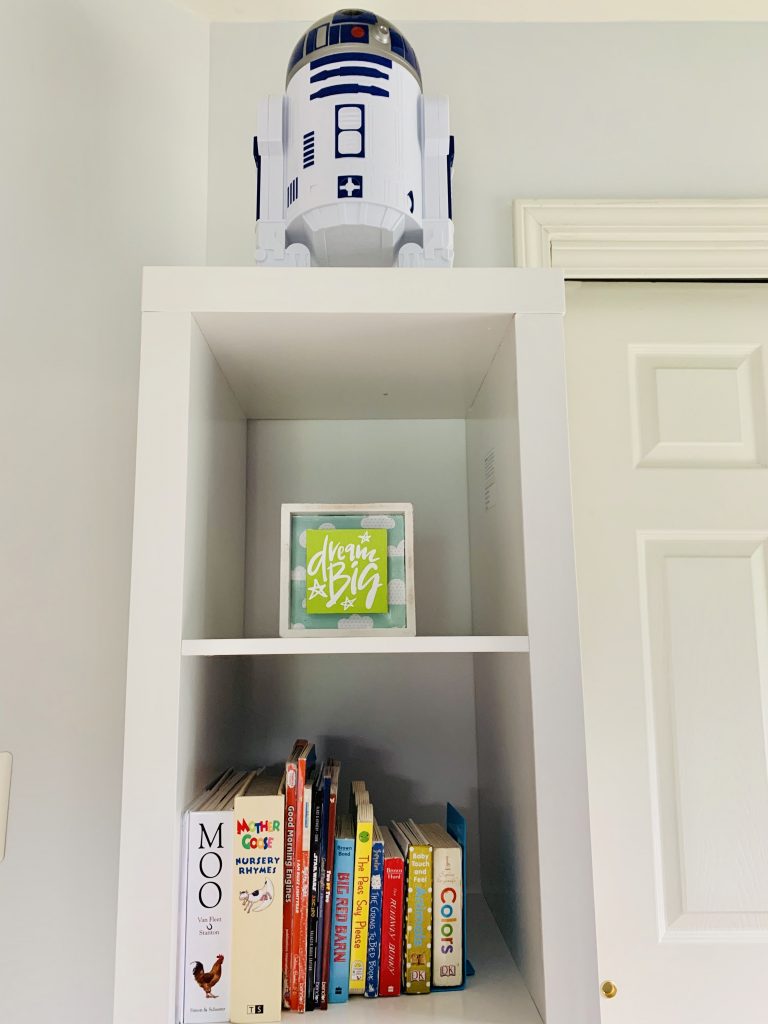 The biggest splurge in this room was the changing table/dresser.  When he gets older, we can take off the changing top and change the knobs to reflect his current taste.  The crib was my daughter's and had bows on it. 
I made vinyl stars to put over the bows and my daughter helped me create some of the artwork in the room.  Most of the other furniture in the room we already had as well as the Star Wars decor items from recent trips to Star Wars Land and a through some toy bins around the house. 
Challenges: 
For both rooms, the challenge was shopping.  With the pandemic ongoing, we didn't want to go to stores and so I had to get creative using what we had around the house or making things by hand (being crafty comes in handy!).  Overall, I'd say we saved a ton of money (I'm talking hundreds) by buying second hand and using what we already had. Plus I'm all about recycling and up-cycling. For the win!
For Baby A's room, the hardest part was taping and painting the mountains behind the crib.  I used 4 different paint colors and so this took a while to finish.  Other than that, the 2nd challenge was creating a closet organization using a bookshelf and some shelving we already had on hand. 
For Baby B's room, the closet already had an organizer in it.  The biggest challenge was painted in the room the one color.  This particular blue, even with primer took 5 coats of paint to have a solid finish.  My pregnant arms sure got a workout! 
Overall, I am happy with the way the twin nurseries turned out!  I hope the boys like them as much as I liked putting them together.
Nursery Tips for New Parents:
Use primer and paint with primer in it in Satin finish (helps get crayon off wall easier later on). 

Buy furniture used or second hand.  We used our crib, but some people hardly ever use theirs because their kids sleep with them or on a floor mattress. You can get a great bargain and help recycle! 

Instead of a changing table, opt for a dresser or a desk.  For my daughter, we used a desk as a changing station that is now her homework desk.  This saves money and buying new furniture later on. 

Be sure to anchor in all furniture!  Once those babies start moving they will try to climb.

Get creative!  What can you use in the nursery you already have. Think curtains, artwork, lamps, etc. Not everything in the room needs to be themed. 
Stay tuned for the babies' intro to the blog and thank you for taking the time to read about twin nurseries. Stay tuned…