We have completed 3 gratitude challenges now, woohoo!  
This month has flown by and I hope that the past few weeks of gratitude have made some space in your heart to find joy in reaching out to others.
New to the Challenge? No Problem!
Check out the Welcome Message and Challenge 1 here
Our purpose is to give back to others and reap the mind and body benefits gratitude has to offer. Each challenge has a theme that we follow that usually aligns with what people don't have enough and need more of in their lives. 
There is no time limit here, do the challenge anytime or the ultimate challenge of completing all 4 on the same day!
Today's Challenge: Positive Message
This one is probably the easiest challenge of the 4.  The challenge is to leave a positive message somewhere for someone, anyone.  Trust that your message will find the person who needs it the most.  
 Ideas:
Leave a post-it on a table for someone to find it

Use a dry-erase marker to leave a message on a bathroom mirror

Paint a message on a rock and place somewhere people will see it

Leave a message in a mailbox

Use chalk and leave a message on a sidewalk

Post something positive on social media

Leave an encouraging note in your child's lunchbox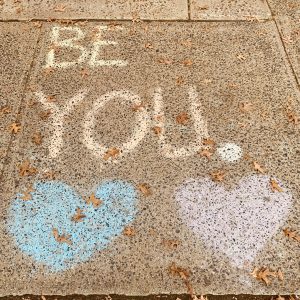 Please post a pic of your message on social and feel free to share a story about it if you would like.  I'm looking forward to seeing them! <3
Please share this post so we can spread gratitude as much as possible. We all need it now more than ever!
Thank you for participating in the challenge!  
Next month, join us as we prep for an amazing 2021!
Sign up below for the Newsletter below to stay in the loop and for free downloads