Happy New Year Life Designers! We've made it thankfully to 2021.
Looking Back
I can say looking back on 2020, I can tell you my life fell apart in some areas and soared in others. It's crazy how we can fall apart and be reborn within a small bubble of a worldly pandemic. Despite our personal hardships, we are stronger because of them and ready to conquer this year from our inner resilience and hope.
I'm emphasizing the "Happy" in this Happy New Year because we are in this together and we are collectively in charge of seeing to our own happiness.
This blog is about Life Design after all and I'm here to tell you through this Insights Blog that is possible to design the life you want. It is not easy…nothing worthwhile is ever easy whether it's finding or preserving a relationship or gaining traction in your career.
We must be able to see ourselves through the hardship on our journey in order to find ourselves in a better place we never imagined. Just look at my infertility journey…37 cycles, losing 5 babies, and BAM! My last chance and I get pregnant with twins! What if I just gave up? What if I gave up on the 5th or 20th cycle? I would've never had the chance to birth 2 amazing little boys into this world during a time of turmoil.
What do you want to birth in 2020?
A child? A book? An organized pantry? A new job?
Go ahead and accept that challenge!
Looking Forward
After a blog poll in the summer, I learned you wanted to see more of my personal life, so Fun Friday has now officially turned into an exploration of my Lifestyle. 
Last year I had a business coach who also said I should put myself out there and I admit, I thought it was a stupid idea. Who cares about my crazy life, right? Well, I will accept this challenge to put myself personally out there if it helps someone like you design the life you want (or learn from my mistakes!). 
Well, I thought about it and if anything, I hope these Lifestyle posts can inspire others. Inspire you to design the life you want and to not be too hard on yourself.
We are gorgeously messy, handsomely complicated, and full of sparks to ignite the fire of our dreams.
Right Now
Right now I am ready for 2021. I have my Google calendar filled with colors for my family and my old fashioned paper calendar ready for my work goals.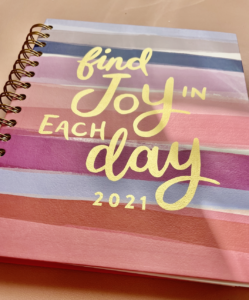 I've started cutting out magazine pictures for my 2021 Vision board to manifest my goals and I'm excited to put it together!
I'd love to say, "I'm running toward my goals," but the only time you will ever see me running is:
a. to save one of my children
However, here I am at the starting line waiting for that 2021 whistle to blow. I'm ready to run with my passions as fast as I can. For all the time lost in 2020. For myself because I am worth it.
I am ready to burst my dreams out into the universe and dive into all the failures and hardships that I will learn and grow from to get where I want to be. All while raising a beautiful wildflower with autism and twin babies. With bills to pay and limited time. With takeout delivery and through the tough winter months. Watch me!
I hope you have the courage to run with me. No matter what fear you feel right now, let yourself feel it, and don't be afraid. That fear is really your courage to succeed. Embrace it every day.