This post is as sad as the snowman above.  It is a confirmation of the death of the snow day.  The nights of wearing your pajamas inside out and backward…hoping that there would be enough snow for work or school to close are over for most of us.  
Let's Grieve
I feel old, but back in my day, the snow day was king.  It was a day to suit up, get out in the neighborhood with friends, and have fun.  Building forts, sledding, snowball fights…all the good stuff.  Coming in from outside with a wet suit and a red nose were signs of a successful snow day.  The night air inside would be filled with hot chocolate and warm buttery popcorn as you snuggled up with your PJs watching movies complete with a fuzzy blanket.
Thanks to our COVID conditions, the snow day, I'm afraid is a thing of the past.  When we work remotely, it doesn't matter what the weather is.  We are supposed to show up on time, with a fresh face.  Our kids are expected to do the same, to log onto their virtual classrooms, dressed and ready to roll.  The kids have a natural urge to want to play outside.  They look longingly out the window wanting to build a snowman but are stuck trying to catch up on an endless school year that has no boundaries.
Here's 2 weeks' worth of "homework" my kindergarten brought home from her 1/2 day hybrid schooling…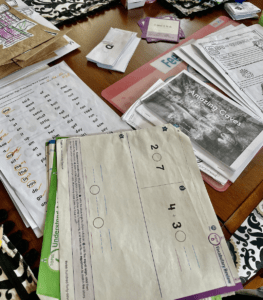 It's a lot…it's to make up for 1/2 a day of school they are missing.  I get it.  My kid is special needs, so she's got a lot of catching up to do.  I wonder how kids will be assessed and how they will meet educational benchmarks being that there's a lot of education not happening.
Snow days are imminent here in the Northeast. I am not a teacher and kids need time to play. There really is no answer for these younger kids who need the extra help only a teacher can provide. 
The Future is Now
Snow days, I'm afraid are a thing of the past unless you can use time-off to take one.  Companies now expect everyone to be connected and unless you personally put a boundary in place, burnout and being overworked are in our future.
Of course, if you are single or don't have children the snow day has little effect on your daily life not including what you would normally "go out" to accomplish.  Sure there can be frustrations such as appointments or scraping the ice off your car.  
I hope companies and schools see this and allow people some time to shovel driveways or play with their kids and enjoy the snow as we have done in the past.  But snow days are just that-a a thing of the past.  Another way we can ignore the stressors of work-life balance.  
Coping for Parents
Parents, I feel you.  It is hard enough with remote learning and trying to hold a job.  If you have children under 5 and childcare isn't available on these snow days, it's hard…really really hard.  I feel you and am with you.
In times like these, we need whatever help we can get to get through the day.  My coping advice is to take the day off…let your company know you have no choice as you need to remote school your children and/or take care of little ones.  
If there are fears of being laid off, try asking for flex time to work at night instead of the day or show up to meetings and work at another time.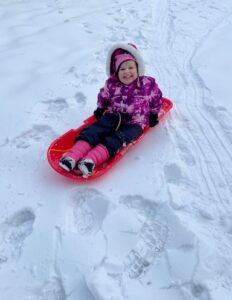 Personally, my day is all over the place. I work in carved out pockets that my husband and I rotate between meetings between 6 am and 10 pm. Then on the weekend, we have pockets for unfinished work during the week.
The snow day may be gone, but we can be creative.  We can find flexibility in some hours and continue to find pieces of the structure in an unstructured time.  
For now, go outside, throw a snowball and take a deep breath of cold fresh air.  Let it fill your bones and wake you up for what's waiting for you inside.